~~~~~~~~~~~~~~~~~~~~~~~~~~~~~~
Upcoming Events at a glance
August 3-9 Camp Kimtah (15-18 yrs) Samish Island
August 10-16 Camp Mungai (10-11 yrs) Samish Island
August 16-17 Silent Retreat Hills of Peace
August 29-31 Canada West Mission Conference Chilliwack BC
September 26-28 Men's Retreat Hills of Peace
September 26-28 Singles' Retreat Samish Island
October 17-19 Young Adult Retreat Samish Island
October 24-26 Nurturing Spirit Weekend Saskatoon
October 24-26 Peace Colloquy Independence, Missouri
*dates subject to change, always check online or here for the most up to date information
~~~~~~~~~~~~~~~~~~~~~~~~~~~~~~
This Week…in the Weekly Wire!
Camping Photos Needed
Photos of Junior Camp at HOP
Camp Mungai Samish Island
HOP Silent Retreat
Nurturing Spirit Weekend Saskatoon
Child Protection Training
Mission Conference Poster and Schedule
2014 Camps, Retreats and Reunions info
Youth Worker Registration Form
Quote of the Week
~~~~~~~~~~~~~~~~~~~~~~~~~~~~~~
Camp Mungai
August 10-16 at Samish Island
4:00 PM on Sunday, August 10 – Noon on Saturday, August 16
For Boys & Girls Entering Grades 5-6
Theme: Sharing The Peace of Jesus
Camp Mungai is a week-long adventure where campers have the opportunity to share in the love and peace of Jesus. We will spend time as a community in song, cooking some of our own food, doing crafts, eating, sleeping--a little, running, canoeing, campfires, being in the outdoors and having lots of fun.
Special items to Bring: White t-shirt to tie-dye and lots of energy.
Co-Directors: Laura Fish – 206-909-0174/ Karen Powers – 253-230-1444
~~~~~~~~~~~~~~~~~~~~~~~~~~~~~~
Hills of Peace
Silent Spiritual Retreat
If you are planning to attend the Silent Retreat,
please register with Morris Johnston by
Tuesday, August 12.
~~~~~~~~~~~~~~~~~~~~~~~~~~~~~~
Nurturing Spirit Weekend Saskatoon
~~~~~~~~~~~~~~~~~~~~~~~~~~~~~~
Please register your children and list their ages
so we can make plans for their classes.
It's time to register for Mission Conference
in Chilliwack BC, August 29 – 31.
EVERYONE must register with Debra!
Our Guest Ministers
````````````````
The Royal Hotel is still honoring our discounted rate. Feel free to contact the Coast hotel to see what they have available.
We still have a few beds left if you'd like to billet in someone's home!
Mission Conference Schedule
~~~~~~~~~~~~~~~~~~~~~~~~~~~~~~
Child Protection Training
in BC
If you've taken the Registered Youth Worker training as recently as two years ago, please note that our policies and procedures have been updated.  It's important that everyone take this training, even if you never intend to teach a children's class or be a camp counselor.  We owe it to our children to be informed and have all of the current education available.
Registered Youth Worker Application
(to be filled out with your Pastor in advance)
Chilliwack September 27, 2014 10am-3:30pm
Victoria September 28, 2014 12:30-3:00pm
The Community of Christ shares its Enduring Principles through all aspects of life. The Worth of all Persons, Blessings of Community, Pursuit of Peace and Responsible Choices are all components especially pertinent to this life experience.
~~~~~~~~~~~~~~~~~~~~~~~~~~~~~~
Photographers and Camera Buffs
We need your camp, retreat and reunion photos!
Please send Debra your photos for our video presentation of the camping season at Mission Conference
~~~~~~~~~~~~~~~~~~~~~~~~~~~~~~
Photos from Junior Camp at HOP
~~~~~~~~~~~~~~~~~~~~~~~~~~~~~~
Click on the link below to get info on all of our
CWM Camps, Retreats and Reunions
For detailed information on the Camps, Retreats and Reunions, go to the camping brochure near the top of the page once you've clicked the link above.
~~~~~~~~~~~~~~~~~~~~~~~~~~~~~~
Click here to read the May edition of the
online and in full color.
~~~~~~~~~~~~~~~~~~~~~~~~~~~~~~

What Legacy Will You Leave?
The Community of Christ Mission Funding Team offers free seminars that discuss creating an estate and gift plan that can help bring your legacy to life: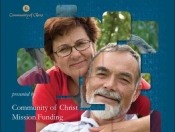 Generate more retirement income
Create a will or trust to protect your assets
Establish a gift that will support Christ's mission beyond your lifetime
To find out when there is a seminar in you area or to schedule a seminar at your congregation or mission center, please contact mission funding at:
1-800-884-7526
missionfunding@cofchrist.org
www.CofChrist.org/missionfunding
 

Savvy Living

Food Assistance Programs Can Help Seniors in Need

I run a community counseling program for needy families and I am frustrated that so few eligible seniors take advantage of the food stamp program. Can you write a column on this to help educate seniors on this underutilized benefit? Read More

 
 

Washington News

Highway Bill Rolls Through Congress

Just hours before the August 1 deadline, the Senate voted 81-13 to pass the Highway and Transportation Funding Act of 2014 (H.R. 5021). Without passage of a bill, many states would immediately have had to halt highway, bridge, mass transit and other projects. Read More

 
 
 
 

Personal Planner

Living Wills and Advance Directives

As you approach end-of-life decisions, there are several steps that should be taken to make sure you receive the right type and level of care. To assist you in these decisions, Read More

 
 
 
 
 

Your Plan

Deferred Gift Annuity

Several years ago Larry and Allison invested $30,000 in what they believed to be an attractive stock. It turned out to be a very wise decision. Read More

 
 
 
 
 

Finances

Stocks - Tesla Delivers Mixed Quarterly Results Read More
Bonds - Treasuries Rise on Disappointing Jobs Report Read More
CDs and Mortgages - Interest Rates Relatively Unchanged Read More

 
Please feel free to share this information with your family, friends, and congregation. We look forward to working with you to develop an estate and gift plan that meets your needs.
Yours in Christ,
Community of Christ
Mission Funding 
1-800-884-7526
missionfunding@cofchrist.org
www.CofChrist.org/missionfunding
~~~~~~~~~~~~~~~~~~~~~~~~~~~~~~
We need photos of your congregation's meeting place!
We are building the new find-a-congregation directory that will be part of a redesigned Community of Christ website (coming soon). The directory will include a photo of your location/church building along with the congregation information. Submissions need to be sharp, high-resolution photos, framed as a landscape (horizontal) with sky and ground showing. This will allow for any necessary cropping. E-mail photos along with your congregation's name, address, mission center, and pastor name(s).
~~~~~~~~~~~~~~~~~~~~~~~~~~~~~~
Canada West Camping and Event Calendar
2014
August 3-9 Camp Kimtah (15-18 yrs) Samish Island
August 10-16 Camp Mungai (10-11 yrs) Samish Island
August 16-17 Silent Retreat Hills of Peace
August 29-31 Canada West Mission Conference Chilliwack BC
September 26-28 Men's Retreat Hills of Peace
September 26-28 Singles' Retreat Samish Island
October 17-19 Young Adult Retreat Samish Island
October 24-26 Nurturing Spirit Weekend Saskatoon
October 24-26 Peace Colloquy Independence, Missouri
~~~~~~~~~~~~~~~~~~~~~~~~~~~~~